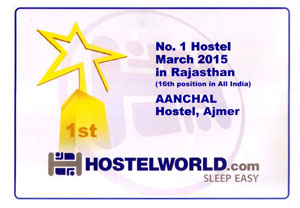 Aanchal Girls hostel has been provided complete with beds, chairs, tables, cupboards etc. Hostel has been provided with adequate security telephone connection besides recreational facilities like TV, Newspapers/ magazines etc. For many years, Girls of our hostel have found a place where they get a good environment. You help others by giving back to your community. You build a solid foundation on which to lead a successful and prosperous life.
Aanchal hostel can be taken as luxury homes like residential hostel, which provide boarding lodging for long periods.
Hostel facilities to its girls coming from different parts of the country and the world. A Hostel Welfare Association comprising of residents help the administration in maintaining clean, healthy, vibrant atmosphere. Residents actively participate in various Cultural activities, games/ sports, seminars, debates and discussion etc, which are organized by them. The young women at the start of their career need safe accommodation & that too is available on Aanchal Girls hostel. In recent years, the demand for working women hostel has increased sharply.